OUR BRANDS
The origin of our business can be traced back to 2005 when B.Duck 小黃鴨, our iconic IP character which we believe to be evergreen, was created by Mr. Hui, our founder, chairman, chief executive officer and executive Director. Since B.Duck 小黃鴨 gained in popularity in the HK–China Market, we have created 24 other characters, being family members and friends of B.Duck 小黃鴨, including but not limited to Buffy, B.Duck Baby and Dong Duck. Our B.Duck Family Characters are designed under the motto of "Be Playful" to appeal to a wide range of consumers across different geographies and demographics.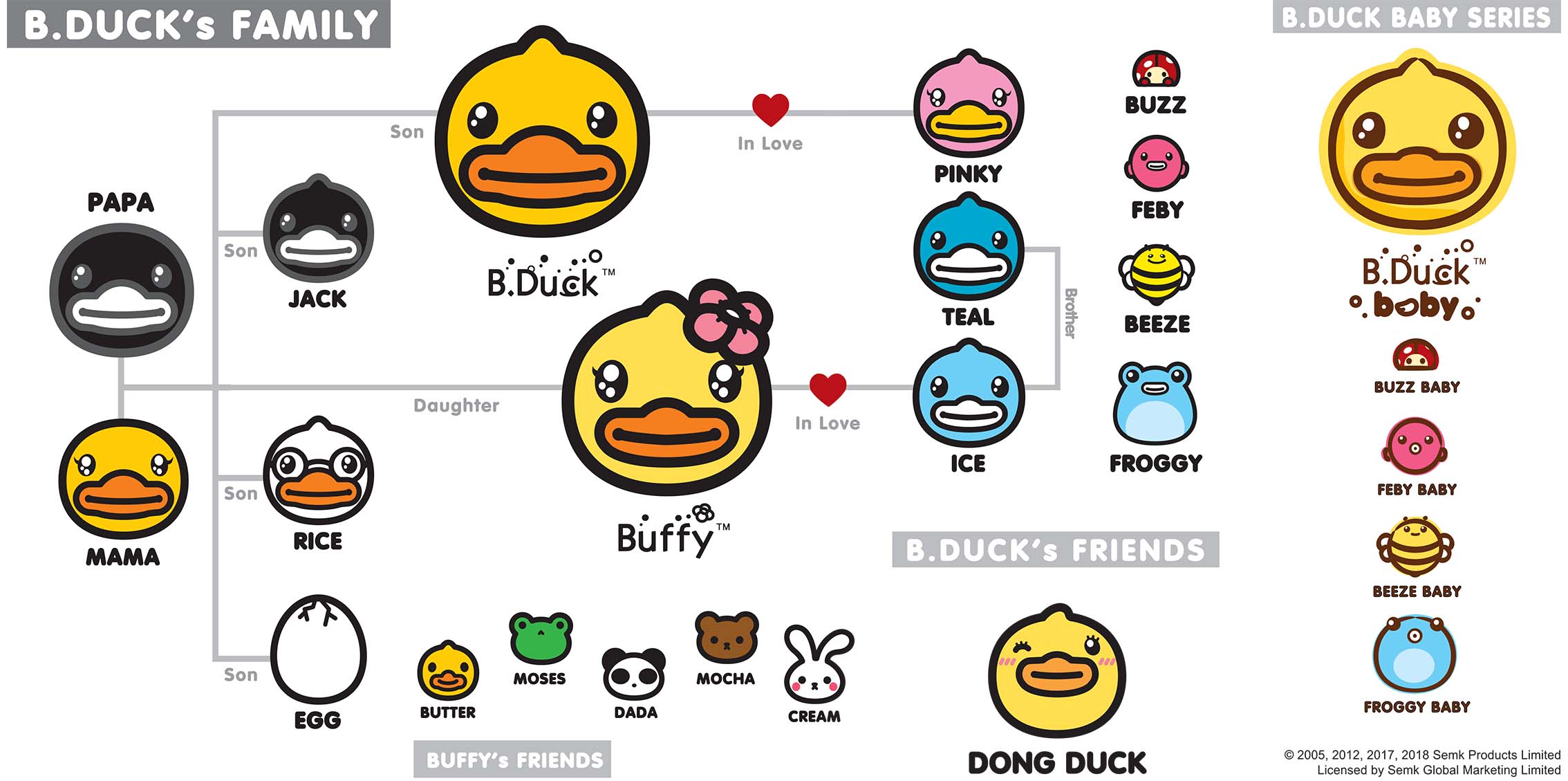 B.Duck 小黃鴨 has received a number of awards, including the "Asian Property of the Year" for 2016, 2018, 2019 and 2020 and the "China Property of the Year" and the "Licensed Promotion of the Year" in 2021 by Licensing International and the "Hong Kong Premier Brand" in 2016 by The Chinese Manufacturers Association of Hong Kong and Hong Kong Brand Development Council. In 2022, B.Duck小黃鴨 was named the "Hall of Fame Award" by Hong Kong Designers Association.

As at 31 December 2022, we had developed over 36,000 SKUs of our B.Duck Family Characters-featured products and our products were sold to around 18 jurisdictions.
We have also been focusing on licensing B.Duck Family Characters as design features for different LBE as well as offering interactive contents on various mobile media and social networks. Our extensive licensing network consisted of more than 400 licensees and eight licensing agents from 2018 to 31 December 2022, with a coverage of a diverse range of consumer sectors and geographical locations including China, China Hong Kong, Thailand, South Korea, Malaysia and Mexico etc.
We are the largest domestic character IP company and ranked fourth among all character IP companies in China, in terms of character licensing revenue in 2022, and with a market share of approximately 2.6% according to the Frost & Sullivan Report. We possess a diversified library of 25 self-created characters, with five main revenue-generating IP characters that we have commercially launched, such as B.Duck 小黃鴨, Buffy and B.Duck Baby, each with its own specific and tailor-made features aiming to attract a wide spectrum of customers. We believe we have successfully created a comprehensive character portfolio to meet the needs of our different customers, We have created, developed and nurtured our proprietary catalogue of over 10 B.Duck Family Characters in almost a decade. B.Duck 小黃鴨, our iconic character which we believe to be evergreen, as evidenced by having strong brand recognition and a large and growing community of more than 19 million subscriptions or follows on various e-commerce platforms and social networking platforms by B.Duck 小黃鴨 Fans located worldwide and primarily in China, China Hong Kong, Thailand, South Korea and Malaysia with, in aggregate, over 1 billion views of various types of content in relation to the elements of B.Duck Family Character.

At present, we have core fan bases among a wide range of age groups, with a focus on consumers in the age group from 15 to 34 years old.